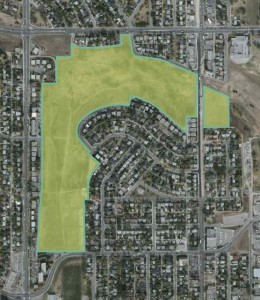 In May 2013, the former site of the Highland Golf Course in northwest Calgary was sold to a partnership headed by Maple Projects Inc. Maple has been involved in the Uno and Ten projects in Calgary, and has focused on rental properties and hotel developments in Western Canada and the United States.
Maple's initial plans are to build multi-family homes and some commercial elements that would revitalize the property, provide accessible greenspace and offer housing options for Highland Park. The ultimate goal is for a development that respects the history of the area while enhancing its future.
With planning for the site in its early stages, Maple is inviting the community to share their ideas on how the development can best benefit Highland Park and the surrounding areas.
reImagining: A New Future for the former Highland Golf Course is a comprehensive engagement process designed to collect ideas and opinions from the public. There will be three phases of engagement with the community over approximately six months.  The initial phase will run from November 4 to December 2, 2013.
Input can be shared online through this website, or by visiting the former Clubhouse on the golf course site.  A temporary community engagement centre has been organized at the Clubhouse where people can stop by to ask questions, give their opinions and learn more about what the project means to area residents.
Early in 2014, feedback from the initial round of engagement will be shared with the community, and a second phase of engagement will be initiated.  The final Master Plan for the Highland Golf Course Redevelopment will be available for feedback in March/April 2014, before it is submitted to The City of Calgary.
Planned phases:
Phase 1 – Initial Engagement, Nov 4 – Dec 2 2013
Phase 2 – Development Concepts, Mid Jan – Mid Feb 2014
Phase 3 – Master Plan, Mid Mar – Mid Apr 2014
For more information
call: (587) 316-1896
visit: Highland Golf Course Clubhouse in person (call for hours of operation)